FITNESS INSTRUCTORS TRAINING COURSE
FITC is an online learning course designed to transform your motivation for fitness and into an enriching career as a Personal Instructor. You will be trained online with pre-recorded lectures which you can learn any time and any place.
Whether you aspire to work for gyms or an independent Fitness Trainer or train people online or looking for a career in the fitness industry, this course is for you.
With WG Institute, you get courses at affordable cost, flexibility in timing, remote access from any where in world which save travelling time & cost too and many more benefits...
WGI is a ISO Registered Institute, All certificates are ISO Register No. on it.
Any time, any place at your own pace.
A. Anatomy
Skeletal System
Respiratory System
Cardio System
Vascular System
Circulatory System
Muscular System
Digestive System
FAQ's
B. Nutrition
Elements of nutrients
Carbohydrates
Fibers
Proteins
Amino acids
Fats
Vitamins
Minerals
Waters
C. Exercise Physiology
Energy Production
Duration of energy pathway during exercise
D. Kinesiology
Types of muscle contraction
Muscle roles
Movements of body segments
Plane of motions
E. Supplementations
Functions And Importance
Types of Proteins Supplements
Glutamine
BCAA
Sports and Energy drinks
Fat Burners
Creatines
Other Supplements
A. Cardio Training
B. Stretching
C. Fitness Testing
D. Weight Training
A. Special Population
Hypertension
Asthma
Osteoporosis
Vertigo
Migraine
Cervical Spondylosis
Slipped Disc.
Special Population & Exercises Chart
B. Sports Injuries
Muscle Pull
Neck Pain
Shoulder Impingement
Lower Back Strain
Tennis Elbow
Runner's Knee
Shin Splint
Ankle Sprain
Achilles Tendinitis
Arch Pain
Frozen Shoulder
Flat Feet
Sports Injuries & Exercises Chart
"Know how Yogesh, a fitness trainer, was able to increase his income – " I was in the fitness industry from the past 9 yrs, but always faced challenges in getting paid more or high paying clients. At that time I heard about WGI, got enrolled into their Fitness Instructor Course. This course gave me more knowledge that I didn't knew about.
As soon as I got Certified from WGI, my client became more happy with my advanced knowledge. I got many high paying clients after that. WGI has helped me to grow in my career and become a certified professional in fitness industry."
Yogesh
Fitness Instructor Course
"Mam am very much thankful to all of you especially to you and those who prepare our lecture text, because now am doing Reps here. Mam am frankly speaking you are the best faculty and institute. Here me and only Hariprasad from India others are foreigners but I proudly say am almost good in theory and practical because of you mam..Here even the faculty are not good enough knowledge how to teach students. Here I have bundle of notes to learn but mostly I go through our notes it was simple and understandable…Now I strongly say that my decision regarding your institute was right"
"The sessions are interesting. Learning with the help of faculty is very easy. The explanations are too good. I am sure that by the end of my course I will be able to easily understand everything about human anatomy."
"Found WG Institute one of the best in terms of teaching techniques, supporting faculty, highly knowledgeable teachers, and accurate scientific approach of learning.
During lockdown period they are offering online lectures to all the students which is really very admirable and easy for all the students to stay connected with the studies."
Great experience teachers really very help full and good, It is being very helpful and effective, great online course i have done with wg institute team.
I'm an active housewife and enjoying delving into streams of a healthy life and WG institute has been very helping for the same. In a very short while, I've already implemented a lot of culinary changes for the good in my family faculty and WG institute, a big THANK YOU!
This institution is best for all knowledge and best faculties who guide for each small things also.
OR
Pay and directly enroll into course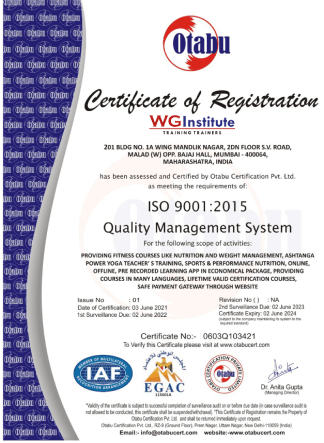 WG INSTITUTE is dedicated towards creating top level Certified Personal Trainers equiped with more than just theoretical knowledge and a certification. Every student receives one of the industries top most recognized personal trainer certifications and get hours of both classroom and gym floor training. The mission of WGI is to teach, certify and guide the future leaders of the fitness industry through the most comprehensive hands-on Certification Program available.